Ikechukwu Ezeugwu Foundation Hands Over Renovated Science Laboratory Blocks to Enugu State Ministry of Education
Wednesday, 13th of July 2022 witnessed a heartwarming moment in Ovoko Boys Secondary School as one of their Old Boys, a pioneer student of the school and the Founder of Ikechukwu Ezeugwu Foundation, Hon. Ikechukwu Ezeugwu PhD, handed over revamped science laboratory blocks, through his foundation in collaboration with Later-day Saint Charities, to Enugu State Ministry of Education.
The event was graced by government officials, Igwes of all autonomous communities and other traditional rulers in Ovoko, many indigenous sons and daughters of Ovoko and as well as lovers of education who came to witness the commissioning ceremony of the project by the Enugu State Commissioner for Education, Prof Uche Eze.
The lawmaker in his address thanked the Governor of Enugu State, His Excellency, Rt. Hon. Ifeanyi Ugwuanyi for his innovative mindset and unwavering passion for education. "From the years I have been with the former administration, I have come to understand and appreciate why Gov. Ugwuanyi has invested so much in education. Education requires enormous funding and Enugu state is ranking high when it comes to promoting science and technology.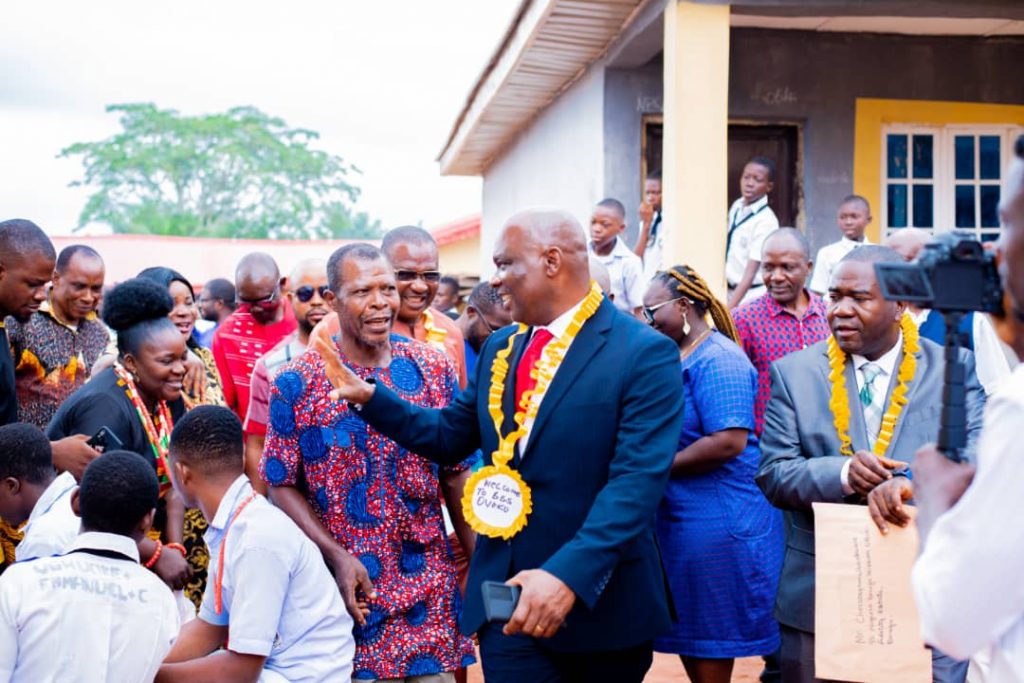 As I speak, Enugu State Basic Education Board (ENSUBEB) is set to commence another round of infrastructural projects in our primary and post-primary schools, the Enugu State Scholarship and Education Loans Boards (ESSELB) has recorded immense success too in supporting intelligent but less privileged students in both local and overseas institutions of higher learning" he hinted. He took time to encourage the students of his alma mater, stressing that education remains the only key to success.
He briefly narrated his experience during their time in school and adviced that students should take their studies serious. "Ovoko Boys has produced elites and we will reach out to them so that all hands will be on deck as quality education does not come cheap and government cannot do it alone" he concluded.
The state Commissioner for Education, Prof.