As seen on various twitter handles, the posters of Governor Udom Emmanuel of Akwa Ibom State was sited everywhere in Abuja as the battle for presidency is getting heated up, come 2023.
The posters were sited with the inscription "Let's Change The Change, and Everyone Matters"
The pictures sparked a lot of conversations on twitter as many users also claimed to have seen the pictures around the Federal Capital Territory.
A user with the handle @YunusaMcFc sees Governor Udom as a worthy candidate.
"I must say. He did wonders in Akwa Ibom despite all the pressure from enemies of the state…"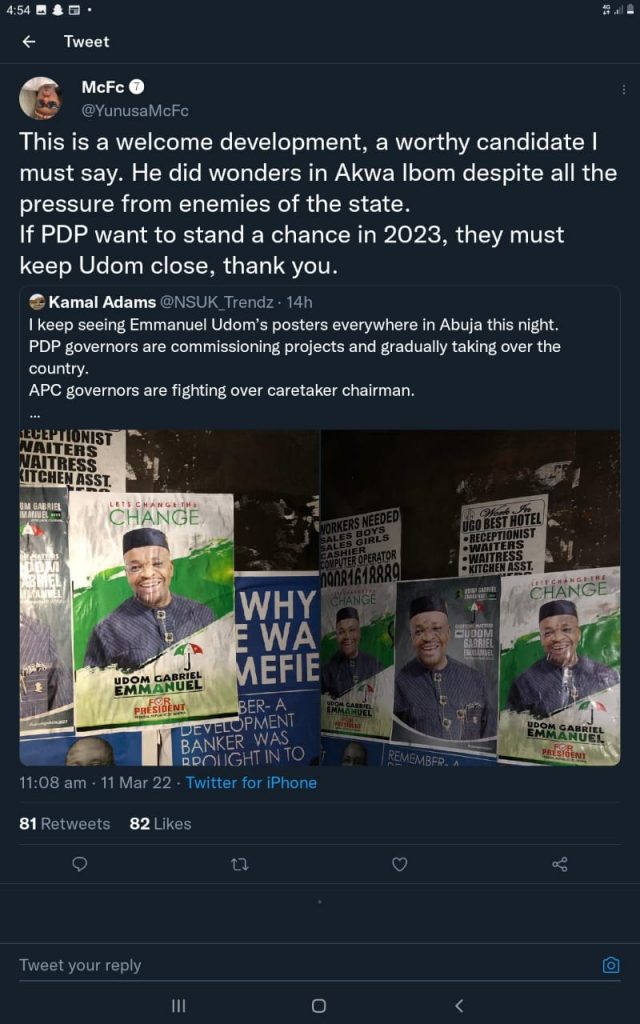 Another user with the handle @its_Badamasi also posted
Seeing is believing,Udom has done well in his state but the Cabals would do anything to stop him from contesting,They don't wnt any competent person to rule this country.Nigerians must be ready to fight in 2023.
We ned more competent candidates who are bold and fearless lke him. https://t.co/cTL5e0Q1f4 pic.twitter.com/ro6ZNi1eKJ

— 🇳🇬 先生教授 🇺🇸 (@its_Badamasi) March 11, 2022
Screenshots of other Tweets:
Governor Emmanuel udom seems to be a strong contender in the forth coming General Elections but Nigerians are patiently waiting as many citizens are saying the 2023 General Elections is the most unpredictable Election in Nigeria since The birth of Democracy in 1999..