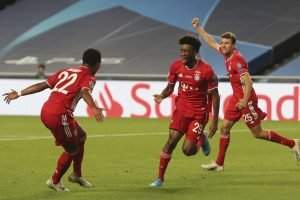 Bayern Munich have won this year's Champions League, following a 1-0 victory over Paris Saint-Germain on Sunday night.
The Bundesliga champions came into the game as huge favourites to win the game, but failed to dominate PSG in the first half.
However, Neymar and co failed to make their dominance count, wasting several opportunities to take the lead.
Bayern, however, scored early in the second half, with Kingsley Coman heading in Joshua Kimmich's fantastic
The goal threw the game wide open, but there were no more goals, as PSG continued to be thwarted by goalkeeper Manuel Neuer.
Hansi Flick's side have now completed the Treble, having won two domestic cups before the Champions League final